This is the third in a four-part series on building a sustainable Drupal distribution using Commerce Kickstart 2.0 as an example. Also see Part 1 and Part 2 in the series.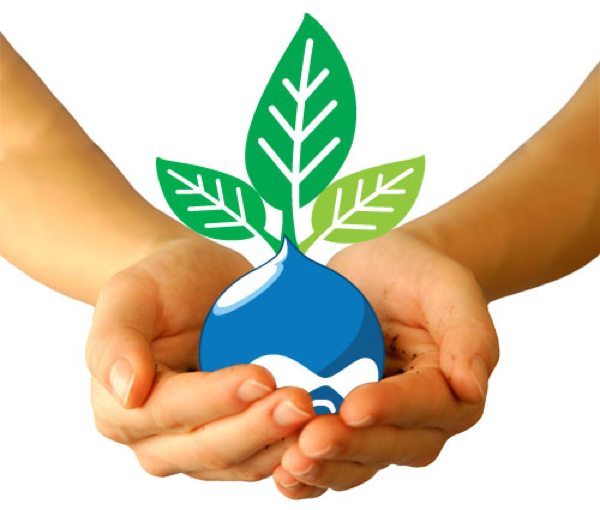 A sustainable Drupal distribution implies an ongoing relationship between the software vendor and the site owner. Software updates, bug fixes, and security patches represent the bare minimum contact. However, the relationship can and should go deeper. The world of eCommerce is constantly changing, with factors like mobile, multi-channel, and social commerce introducing new opportunities and challenges at a blazing pace. The only constant is change, and traditional retailers are not the only ones left scrambling to keep up.
With this background, Commerce Guys is in a unique position to shine a light on important trends and bring clarity to complicated challenges. From our work with eCommerce merchants around the world we have a wealth of knowledge to share with people building and running their online stores.
But it's not only Commerce Guys who have knowledge to offer. Every add-on in the Commerce Marketplace has a smart team of experts behind it who are adept at solving one type of eCommerce problem. Our Technical Partners are responsible for some of the most innovative and interesting eCommerce tools, and our Integration Partners build fantastic commerce websites. These partners have a wealth of knowledge and information to share.
This body of knowledge is currently on offer in a number of ways, usually outside of the Commerce Kickstart distribution (though Kickstart does have online help and a Getting Started Guide):
But how does a Kickstart site owner stay up-to-date with this information once Kickstart has been downloaded and installed? One way is to sign up for the Commerce Guys newsletter. Are there other ways? Yes, and I'll describe them in a moment.
Making Kickstart better
Merchants aren't the only ones who need knowledge, however. The people writing the software need to know things, too. How are merchants using the software? Are some features more popular than others? Do merchants seem to get stuck on any critical part of the configuration? These are hard questions to answer if your software is a Drupal distribution. With the right information about how Commerce Kickstart is being used, Commerce Guys can work in a very focused way to make it even better. Everyone benefits from this: customers shop on a better store, merchants reach a wider audience, and Drupal Commerce is adopted by more and more people, benefitting Commerce Guys and its Partners.
Getting the right information, where you need it, when you need it
But how to actually get that information? And how to be more effective at communication with merchants about solutions, tips and tricks, interesting upcoming events, newly written case studies, and the latest training videos?
The answer to these questions is the upcoming content network that Commerce Guys intends to launch with direct integration into Commerce Kickstart. As a merchant/site-owner uses Kickstart, we will provide new and helpful content in the administration areas of the site. This content is intended to be in the right place at the right time to help you make great eCommerce websites.
For example, while you're installing Kickstart, there are 2-4 minutes where you're staring at a progress bar on a white screen. That's the right time to show information about first steps to take and how to solve important upcoming problems like uploading your products or finding an email provider with good reputation tools.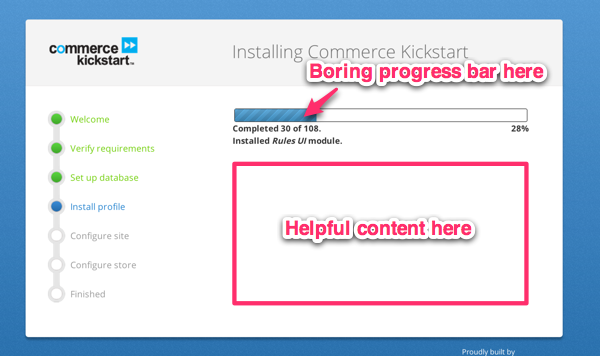 In the Getting Started Guide and Help sections we can update the sections that list extensions not necessarily packaged in Kickstart. For example, if a new discounts or stock management module is released, you may want to try it out.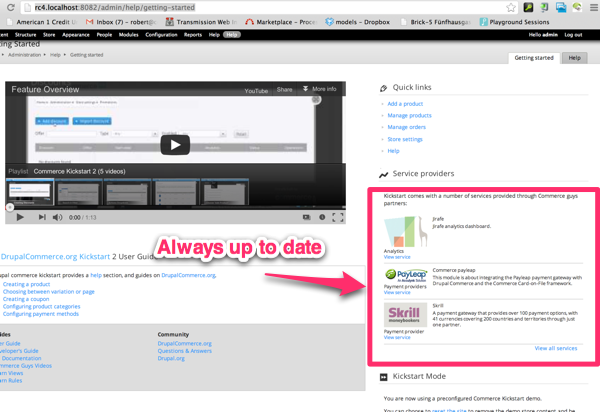 Or, take the case of visiting the shipping solution configuration page. Assuming no shipping providers are configured, that's the right place and time to show a list of available integrated services, including any special offers that they might have at that moment.
Finally, you might be interested to know when there are Drupal or Drupal Commerce events happening, or when a new marketing tool is available so you can experiment with it and see if it improves your bottom line in sales.
The mechanism that we have in mind for this is a dynamic system for pushing content, such as Google's DFP for small business (this system was also chosen by Drupal.org). The content that we aim to provide should be helpful, timely, and not interrupt your work or devalue the overall software experience. Furthermore, the whole thing is going to be packaged into one module that can be turned off if you don't need it.
In addition to the value that this content will bring to merchants, Commerce Guys will be able to answer some of those tough questions about how Kickstart is being used, and thus work in a focused way to make it even better.
Conclusion:
Establishing a strong relationship between the software vendor and the merchants who use the product is an important step in making Commerce Kickstart a sustainable distribution. With the right knowledge at the right time, we can help you succeed with online sales, and you can help us succeed in building world-class eCommerce software.