If you're planning to build, pitch, or run an eCommerce-enabled site soon, grab the new version of
Commerce Kickstart
and take a look (get the latest 7.x-2 release). We've continued to refine
the features that Bojan wrote about
last month, both for site builders and customers.
As a quick recap, here's what it looks like: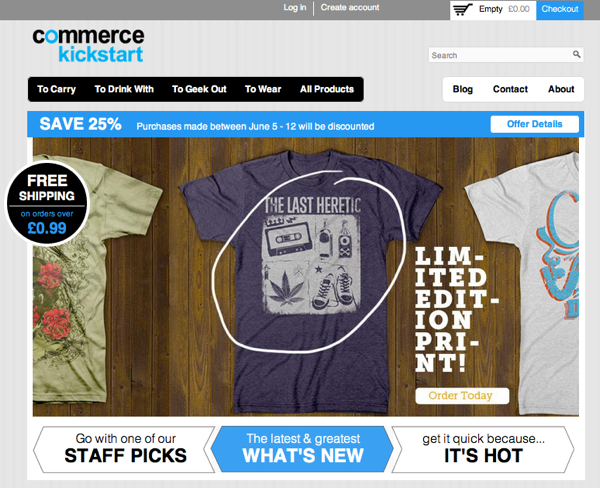 That's what you get by default — it's an unretouched screen shot taken immediately after installation. Nice!
While Bojan focused on features, I want to point out Commerce Kickstart's benefits. Here's what you get:
A better-designed site. Commerce Kickstart's presentation is based on the Omega theme, which is easy to modify and gives you HTML5 compliance and a mobile-ready responsive design for free.
Improved administration. Product creation; module control; and product, order, and customer management are all easier on Commerce Kickstart than on core Drupal Commerce.
A much better user experience. It's a pleasure to shop on the Commerce Kickstart demo site. Products look better, checkout is easier, and there's faceted search to lead customers to what they want faster.
A demo for client presentations. Just change some graphics and product details to effectively show clients the possibilities.
Faster development. Commerce Kickstart shaves days off your setup process. That's time you can dedicate to the site's requirements.
Our offices in France and the U.S. are hives of activity to make Commerce Kickstart amazing for DrupalCon Munich. But don't wait until then: Take 15 minutes to try it now so you can offer your clients — and yourself — a better way to start an eCommerce site.