Building your eEmpire: eCommerce from the Ground Up
Details:
Webinar Speakers:
Matt Galvin, Project Manager, NorthPoint Digital & Ben Helmer, Senior Consultant, NorthPoint Digital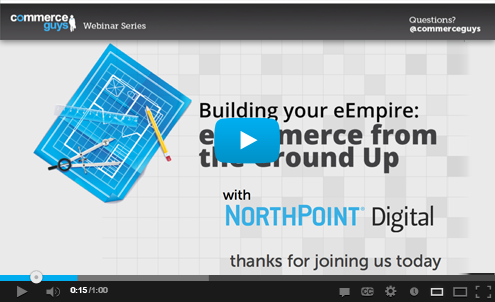 Times are changing. Many folks have smartphones in hand and 64% of them are using their mobile devices to shop online.* 72% of tablet owners make purchases from their devices weekly as well**.
By the end of 2014, Forrester Research estimates there will be $248.7 billion in online sales. That's in the US alone. Over five years, they're forecasting a 10% annual compound growth. Europe is even bigger, with an 11% annual compound growth rate (that's 191 billion Euros by 2017, if you're counting).
eCommerce is a big deal. If you're not paying attention, you should be!

Join NorthPoint Digital and  Commerce Guys as we discuss eCommerce from the ground up – everything to get you selling online and create an exceptional, integrated buying experience in this 24x7 world for your customers. We will go over what's needed for a complete solution - from architecture and security right through to implementation and design.
This webinar is not about selling on another service. It is about selling your product, on your site, on your terms.
In this webinar, you will learn:
The key eCommerce site components (security, payment processing, order fulfillment, tracking, shipping, inventory management, advertising and marketing) and how you can use this to improve your bottom line
How organizations of all types and sizes can keep up with the demands of today's customers and provide them with a "seamless, omnichannel eCommerce experience"
How to achieve perfect integration between your content management system and e-commerce offerings to provide an innovative, profitable and sustainable digital experience to your customers
Suggestions for really great messaging, importance of SEO, and how you can mitigate downtime
Case Study - Physical Products: a young organization that is growing exponentially through the online sales of their highly successful copper woven compression clothing.
Case Study - Virtual Products: unified advertising tracking with globally unique standardized codes created and sold on demand on the web
Case Study - Software as a Service: an educational institution made the transition from brick-and-mortar to providing education solely on-line via apps and the mobile web
---
About the Speakers:

Matt Galvin - Project Manager, NorthPoint Digital - Matt is a Project Manager and Technical Architect Lead at NorthPoint Digital. He is a hands-on full stack and full project leader with 15+ years of experience delivering rock-solid solutions for both small and large platforms. Matt prides himself on his ability to analyze complex technical requirements and deliver solid, simple and user-friendly solutions that meet both business and user needs that scale.

Ben Helmer - Senior Consultant, NorthPoint Digital - Joining NorthPoint Digital in 2011, Ben Helmer has continued his focus on open source development, working primarily on web-based apps and e-commerce. Since 2012, he has been the primary developer for Ad-ID, the advertising industry standard used to track advertisements across all mediums in North America. 

 
* From eDigital Research        ** From 2013 Mobile Growth Statistics
Watch the Webinar:

Building your eEmpire - eCommerce from the Ground Up
Please provide a few details about yourself