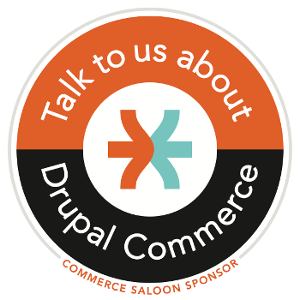 Commerce Guys is joining forces with some of our Technology Partners and several contributing agencies to promote Drupal Commerce at DrupalCon Nashville from April 10-12, 2018.
We are colocating our booths to create the Commerce Saloon, your one stop shop to learn all things Drupal Commerce. Our booths will feature jam band instruments, multiple demos (including a new store theme), exclusive swag, and case studies to help you learn how teams are succeeding with Drupal Commerce.
Come try Drupal Commerce 2.x
DrupalCon Nashville is the perfect time to learn what's new by joining our week long sprint at the "Power Up" tables by the Commerce Saloon. We'll be training new contributors and working on the project together using sprint kits powered by DRUD's ddev local development environment.
We prepared the following sessions to help you learn more about Drupal Commerce and its ecosystem:
Contributing to Drupal Commerce (for beginners)
Tuesday, April 10th, 12:00 PM | Commerce Saloon: "Power Up" Table | By: Matt Glaman
Drupal Commerce 2.x Update and Roadmap Planning (add it to your conference schedule)
Tuesday, April 10th, 3:45 PM | Room: 203A | By: Ryan Szrama / Bojan Zivanovic
Marketing and Selling the Drupal Commerce Ecosystem (as seen at DrupalCon Vienna)
Wednesday, April 11th, 10:45 AM | Commerce Saloon: "Power Up" Table | By: Ryan Szrama
Decoupled Drupal Commerce / REST APIs (for developers)
Wednesday, April 11th, 3:45 PM | Commerce Saloon: "Power Up" Table | By: Matt Glaman
Subscriptions and Recurring Billing in Commerce 2.x
Thursday, April 12th, 10:45 AM | Commerce Saloon: "Power Up" Table | By: Bojan Zivanovic
Hear from every Commerce Saloon sponsor
There's a lot to be said about how Drupal Commerce is making merchant and agency teams more productive, and you don't just have to take our word for it. Each Commerce Saloon sponsor has something unique to teach you about succeeding in eCommerce, and we encourage you to seek them and their sessions out:
Acro Media (Booth 803) - Test drive Commerce POS at their booth and hear its business case from Becky and Josh! You can also purchase (for free) a limited edition Drupal Commerce t-shirt through Acro Media's demo site.
Authorize.Net (Booth 911) - Authorize.Net offers several payment tools that let merchants get paid securely online. We've joined forces to demo Accept.js, their new drop-in solution for PCI compliant payment.
Bluespark (Booth 908) - Bluespark contributed significantly to Commerce 2.x development via their Sport Obermeyer project (check out their awesome case study) and have long promoted Drupal Commerce as a hotel booking solution.
Commerce Guys (Booth 809) - Stop by for a demo of Belgrade, our new default store theme for Commerce 2.x, or for a demo of, Lean Commerce Reports, our first SaaS product that offers a plug-n-play sales dashboard for Drupal Commerce.
Drupal Commerce Technology Partners (Both 811) - This booth features representatives and demos from Avalara and Lockr. Talk to them about tax automation and about eCommerce security respectively.
MailChimp (Booth 813) - MailChimp has revitalized their approach to eCommerce email marketing and has a full integration available for Drupal in the MailChimp eCommerce module. Stop by to learn more!
Zivtech (Booth 909) - Zivtech has a long history of implementing eCommerce in Drupal, including joining the Drupal Commerce project in late 2009. Talk to them about using Drupal Commerce as a front-end for third party applications.
Finally, be sure to catch Promet Source's showcase session on helping The Corning Museum of Glass migrate from Commerce 1.x to Commerce 2.x and Rick Manelius's session on the dos and don'ts Drupal Commerce project estimation.
Schedule Time to Meet
If you're heading to DrupalCon, we'd love to chat about Drupal Commerce with you. Use our meeting request form to get on our calendar to discuss a particular project or need, or subscribe to our newsletter to be kept in the loop more generally.