About three months ago, a request went around the office looking for people to step up and help review a
book on Drupal Commerce
that was being created by Packt publishing. At first, I was hesitant  —  I hadn't even been with Commerce Guys for a year at that point...but ultimately I decided it was something I wanted to do, for a number of reasons. First, it was a book geared toward folks new to Commerce, a position I am familiar with, and if I'm being honest with myself, a position I still find myself in now and again whenever someone proposes some new feature to be added. The second reason for wanting to help out was that I had never reviewed a book before, and I was more than a little curious about the process and what it entailed. And finally, I was eager to jump in on this project because, to the best of my knowledge, this was to be the first published book on Drupal Commerce, a topic I discuss nearly every day of the week.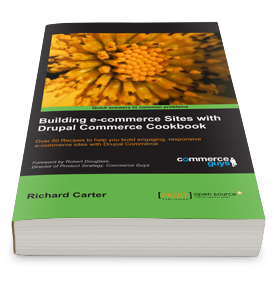 The process itself was pretty straightforward. The folks over at
PACKT
passed along some documents containing various chapters of the book, I would then read over those chapters and add in my comments with suggestions to make things more clear and, in a few cases, correct a few assumptions the author was making about the behavior of the software. I would then ship my comments off to the author, 
Richard Carter
, and his editor(s) to use as they saw fit. The whole thing was pretty painless. My physical copy of the book was just delivered this morning, and it was quite interesting to see this thing, now in print, that just a couple of months ago was just text documents on my desktop with strikethroughs and mark-ups covering its pages.  If you'd like a look for yourself, you can
download a sample chapter of the book here.
I also have to admit that I felt a pretty big sense of accomplishment when I opened the packaging. It's not so much that I had put in a lot of effort, but rather it feels like a big stepping stone in what I hope will be a long Drupal career. It's an interesting feeling to know that there is now a "thing" out there that will very likely be used to bring new people into using a piece of software that I see a lot of potential in, and that "thing" has my name on it. Eighteen months ago, I didn't even know what
Drupal
really was, it was just another CMS, and now I'm contributing back to what makes it so great -- the community -- if even in just a small way.