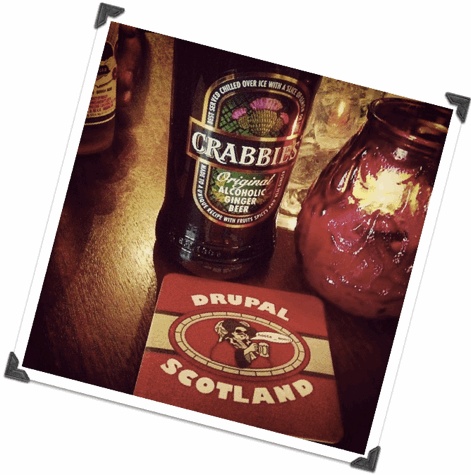 I was very (very!) excited to deliver my very first keynote speech at this year's Drupalcamp Scotland. It was of course full of technical glitches, but all told, a fun experience! I was also able to give a more tactical talk about estimation which I've had the joy of sharing with Jakob Person who co-wrote it with me.
In case you missed it, JAM offered to do a fun interview for the Acquia Podcast -- thanks again for letting me plug away Kickstart, Marketplace, and Turbo Tickets! Our next big push for Portland will also be exciting -- Commerce Platform hosting! We're very psyched about that :)
There were many memorable conversations had on this trip with this very diverse crowd at Drupalcamp Scotland in the center of Glasgow! It was that variety that added to the conversation and made the atmosphere at this camp different from others I've attended. The audience, ranging from ninjas to hobbyists, forced us to focus on the essential and make clear messages that were useful to anyone at any stage of their Drupal career; a mission I hope we accomplished!
From the moment I arrived, I felt the familiar buzz of the crowd getting geared up for a day of absorbing tips, tricks and techniques. I have to say the Scots are quite a lovely band, full of jolly laughter and a very welcoming spirit.  I enjoyed hearing their accents, local jokes (the reading of a particular story that pronounced "rubber ducky" like "rrrrrroober dookie" was a favorite), and getting to know how this small but growing group fares was pretty awesome.
The challenges of growing a community are clearer to me as I reflect on this trip. It's easy to see that one doesn't simply start building sites with Drupal without some help. I think publicity is also difficult; how can organizers find people and convince them that they should meet up at a camp? I can see the difficulty of getting speakers to come to camps to boost their content so they will continue to grow.
I'm heartened to see camp organizers like IKOS's Duncan Davidson and his colleague Robert O'Connor raising the bar for these local camps with awesome speakers like JAM to bring the Drupal 'Esprit de Corps' alongside inspiring dev mentors like Joachim Noreiko – who won the Drupalista of the year award! (Congrats Joachim, seems very deserved!)
I think there's a recipe at work for a successful camp: Fun + Knowledge + Interesting People = Awesome. This means organizers have a pretty daunting task to fund, plan & promote their events. Hats off to you guys, it seems like a lot of work, and I'm sure the community is grateful.
If you'd like to see the slides from the presentations, you're welcome to check them out here!
Thanks again for having me Scotland, I hope I'll be back soon!