Webinar: Fire up your PHP App Performance with Blackfire.io
Unleash the power of Symfony on Platform.sh with Blackfire performance profiler
Details:
Webinar Speakers:
SensioLabs CEO Fabien Potencier & Commerce Guys CTO Damien Tournoud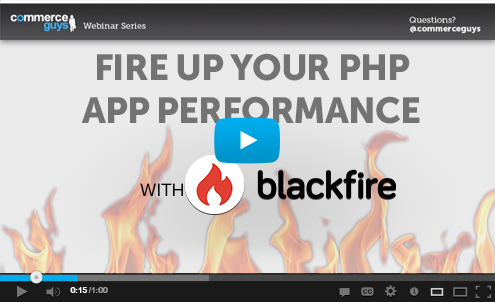 Looking for better performance from Drupal or Symfony?
Blackfire Profiler automatically instruments your code to gather data about consumed server resources like memory, CPU time, and I/O. But Blackfire Profiler is more than figures; its interactive Callgraphs make it straightforward to find bottlenecks and improve performance. Moreover, profile comparisons let you understand the impact of your changes. Blackfire achieves a new level of accuracy by aggregating several profile samples and getting rid of non relevant data.



Blackfire Profiler even detects common performance problems automatically and helps you fix them quickly.

Join SensioLabs CEO Fabien Potencier and Commerce Guys CTO Damien Tournoud for an in-depth look at SensioLabs' new Blackfire.io performance profiler and how it can help you to unleash the power of Drupal and Symfony on Platform.sh.

The webinar will include the following contents:
Platform.sh – the ideal hosting solution for Symfony2 sites
Introducing Blackfire.io
Demo: profiling Symfony sites with Blackfire
Beyond Symfony: profiling Drupal/Wordpress/PHP apps
Q&A
---
About the Speakers

Fabien Potencier discovered the Web in 1994, at a time when connecting to the Internet was still associated with the harmful strident sounds of a modem. Being a developer by passion, he constantly looked for better ways to build websites. Fabien founded the Symfony project in 2004 to fullfill this goal.
Fabien is a serial-entrepreneur, and among other companies, he founded Sensio in 1998 - which became SensioLabs in 2012 -, a software company providing products, services, and technical support for the Open-Source Symfony framework.
Within SensioLabs, Fabien now focuses on creating a new generation of SaaS solutions, designed to help PHP developers improve their code quality (with  SensioLabsInsight) & performance (with Blackfire.io).

Damien Tournoud is the technology leader at Commerce Guys. He is one of the top architects and contributors to Drupal 7 and a key architect behind Drupal Commerce. He also leads the Drupal community in France. After graduating with his degree in Engineering from L'Ecole des Mines de Paris, Damien started as an IT strategy consultant in 2003 and joined af83 in 2008.