Webinar: Demystifying PCI 3.0 for eCommerce
Details:
Date:
Recorded - November 12, 2014
Webinar Speakers:
Gregory Rosenberg, Trustwave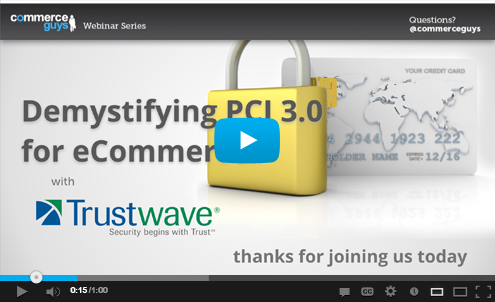 With the PCI DSS version 3.0 implementation deadline around the corner, organizations should be thinking about ways to prepare for the new requirements. With an evolving threat landscape, targeted attacks on sensitive data like yours and new technology platforms it may seem overwhelming to think about protecting your business. This session is designed for the unique considerations of any business with an online e-commerce presence.
During this session we'll cover:
Why the standard has changed
The shifting threat landscape and how it affects e-commerce
What your business should consider for your security needs
The big-picture of what's changed
Expert guidance on how to get started.
About the Speaker

Greg Rosenberg is a Certified Information Systems Auditor and Qualified Security Assessor with fourteen years of information technology experience with seven of those years focused on information and network security. Greg is currently a Security Engineer for Trustwave where he works with acquirers, processors, ISOs and other parties on security and compliance programs for their merchants. 

This webinar is presented in partnership with