Integration of Revolutionary Open Source Ecommerce Platform and Next Generation Analytics Gives Merchants A More Powerful Way to Grow Revenue Quickly
Paris, France and New York, NY, March 25, 2015—
Commerce Guys, the leading eCommerce specialists working with Drupal, today announced a collaborative partnership with New York City-based Jirafe, Inc. The partnership delivers merchants with the market-leading strengths of both companies and combines the power of Drupal's flexible eCommerce platform with the customer, marketing, and merchandising intelligence offered by Jirafe.
The partnership provides a solution that helps merchants address key growth challenges such as attracting, retaining, and segmenting customers with the following key capabilities:
Out of the box, pre-formatted reports that focus on key areas of profitability for any Drupal Commerce store.
Unique data views that deliver data in the form of answers about customers' buying patterns, conversion pathways, and product performance.
New insights designed to show merchants where to find their best customers, which products convert high-value customers, and what customers spend over the lifetime of their relationship with a brand.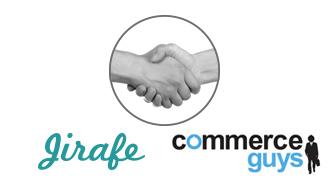 Jirafe and Commerce Guys shared vision for this partnership is to provide eCommerce brands of all sizes, the same powerful business intelligence tools that some of the industry's leading brands like Nasty Gal, Nikon, and Diamond Candles use to run their stores. Specifically, the two companies are working together to deliver stores built on the most flexible open source eCommerce platform alongside the best-in-class commerce intelligence capabilities of Jirafe to help stores optimize their performance.
"Jirafe is quickly gaining recognition for its superior eCommerce intelligence solution," said Frédéric Plais, CEO of Commerce Guys. "We're excited about our partnership—their technology offers clients powerful insights to help them determine what is happening in their business - and then decide what actions to take next. Jirafe reduces the time between insight and action - which can make a world of difference for eCommerce merchants in a highly competitive marketplace."
"Jirafe is pleased to be partnering with Commerce Guys. We believe that by working together we can help tens of thousands of Drupal Commerce merchants grow their online revenues, and empower them to act with confidence by bringing them critical insight into their business," said Amit R. Shah, CEO and founder of Jirafe. "Page views are not enough to grow a business, merchants need a commerce focused analytics solution that can help turn their data into answers that fuel growth. Jirafe merchants often see up to a 20 percent increase in revenue within 30 days."
Commerce Guys is set to unveil new breakthroughs in commerce at DrupalCon on May 11 - 12 in Los Angeles, CA. Follow the latest news on
Twitter
and
Facebook
.
---
ABOUT COMMERCE GUYS
Commerce Guys, the creators of Drupal Commerce, is the leading eCommerce company working with Drupal, a powerful open-source Web infrastructure and social publishing platform. With Drupal Commerce, online retailers have a simple yet powerful platform for all of their content, social, and commerce needs and the flexibility to integrate a rich commerce experience anywhere within their environment. Commerce Guys offers a complete suite of services to leverage and customize Drupal for ecommerce, including consulting, development, support, and hosting. These solutions help create a dynamic and engaging eCommerce experience for customers across multiple channels. For more information, visit
commerceguys.com
ABOUT JIRAFE
Jirafe provides more than 80,000 merchants with daily insight to grow their revenues. Our product was built on best practices learned from analyzing more than 425 million shopping experiences and the daily purchase behavior of more than 65 million shoppers. We provide emerging brands like Tuckernuck, Dolls Kill, and Diamond Candles with enterprise class ecommerce solutions that they can grow with. We also provide larger merchants such as Nasty Gal, Nikon, and GE with a high performance, targeted e-commerce solution to manage their business. Visit
jirafe.com
to learn more.