Commerce Guys, the creators and experts in Drupal Commerce, the eCommerce solution powered by Drupal, have established their first Canadian delivery partnership with The Jibe Multimedia, Inc. The Drupal Commerce Delivery Partnership between Commerce Guys and The Jibe Multimedia will provide a better eCommerce experience for Canadian retailers by ensuring they are working with developers who have experience in implementing Drupal, who know eCommerce, and can implement tailor-made eCommerce solutions, all with the backing of the award-winning Commerce Guys team.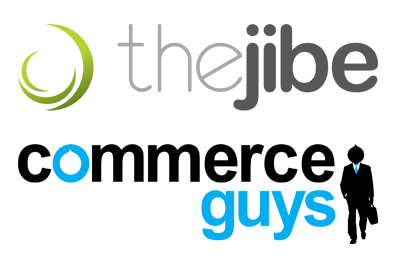 Drupal Commerce is an open source eCommerce framework that is built to adapt and grow along with any eCommerce website. It frees developers from having to work around limitations in their core framework, allowing them to implement highly tailored systems in a standard and cost-effective way.
"With rapid adoption of Drupal Commerce that we are seeing, strategic partnerships between the company who develops and supports Drupal Commerce and companies who implement it for the customer are vital. Canada represents a growth opportunity for Drupal and Drupal Commerce, and partners such as The Jibe provide local representation and business insight that will ensure customer success," said Scott Dahlgren, Managing Director of the Commerce Guys N.A.(North America). "The Jibe has strong Drupal and Drupal Commerce skills and competency, along with a track record of success in understanding a customer's business and delivering solutions that work."
As an open source software, Drupal is maintained and developed by a community of 630,000+ users and developers. Open source means that anyone is free to download and contribute to updating modules, ensuring continued support for the latest advancements in web technologies.
Open source software is dependent on a strong community that has the competency and backing to deliver open and flexible solutions to customers. This community fosters massive innovation that cannot be matched by closed software solutions, because the code is protected and advancement is therefore limited to a single company. Commerce in particular requires the flexibility and innovation that the open source way provides.
"Our partnership with Commerce Guys means a lot to us and our clients. As we continue to expand our services in the Canadian eCommerce market, knowing that we have their team supporting us is key to engaging with the mid-market retailers who would benefit the most from Drupal Commerce," said Francis Pilon, CEO of The Jibe Multimedia. "The Commerce Guys have done a fantastic job in spearheading and building a truly flexible and scalable commerce suite that does not sit on top of a CRM, but rather that is fully integrated. The potential for unifying commerce, content and community in a seamless way is huge, and anyone who has done serious online commerce will recognize this."
About Commerce Guys:
Currently the fastest growing open-source software company in the world, Commerce Guys is the software company behind Drupal Commerce. They have offices in North America, Europe and the United Kingdom, providing them with a clientele from all over the world. They are committed to the success of Drupal's open-source community, and as such their team actively contributes to the Drupal community. 
Commerce Guys have been recognized numerous times for their work. They have received multiple awards including Gartner's Cool Vendor in E-Commerce, Microsoft BizSpark Award, E-Commerce Paris 2013 Grand Prize, and American and International Business Awards. For more information visit their website at
http://commerceguys.com
.
About the Jibe Multimedia, Inc.:
The Jibe is a team of experienced and dependable developers and strategists whose passion is to deliver high-performance eCommerce solutions. With a focus on long-term relationships with their clients, partners and community they specialize in delivering efficient, easy to use and cost-effective web solutions. Located in Vancouver, BC, they continuously contribute to the open-source community by regularly hosting code spirits and are one of the lead sponsors of the 2013 Pacific Northwest Drupal Summit. For more information visit their website at
http://thejibe.com
.