Creators of Drupal Commerce receive coveted Judge's Choice award at Microsoft's BizSpark European Summit.
Paris, France - July 10, 2012
Commerce Guys, the leading eCommerce specialists working with Drupal, has won the Judges' Choice Award at the Microsoft BizSpark European Summit based on the company's performance and international reach. Recently named to the Microsoft BizSpark One program for high-potential startups, Commerce Guys was recognized with the prestigious Summit award by a jury of renowned investors including Index Ventures, Accel Partners, Silicon Valley Bank and Id-Invest. Commerce Guys demonstrated a high potential for success due to the popularity of its Drupal Commerce software, which is experiencing tremendous growth in recent months. More than 15,000 new users have adopted Drupal Commerce since its release less than a year ago and the company has a strong international client base.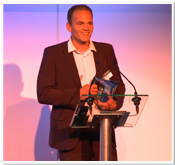 "It's a great honor for Commerce Guys to be selected as the winner among numerous exciting, leading-edge companies," said Frederic Plais, CEO, Commerce Guys. "Drupal Commerce is experiencing unprecedented growth, providing innovative solutions to major challenges in eCommerce—this is what the jury recognized, resulting in a great win for the entire Commerce Guys team." Microsoft kicked off the BizSpark program three years ago to support early-stage tech startups worldwide. Since then, BizSpark has become a robust program of leading entrepreneurs and a global network of partners and advisors. The annual BizSpark European Summit gathers startups, public organizations and partners to exchange ideas and discuss the challenges that face startups and software companies.
About Commerce Guys
Commerce Guys, creators of Drupal Commerce, is the leading eCommerce company working with Drupal, a powerful open-source web infrastructure and social publishing platform. The mission at Commerce Guys is to serve Internet merchants by helping them leverage the power of Drupal for their online stores with cutting-edge technology, expertise and open-source collaboration. For more information, visit
http://www.CommerceGuys.com