Open-Source eCommerce Company on Fast-Track to Transform Commerce
June 5, 2012, Ann Arbor, Michigan—Commerce Guys, the leading eCommerce specialists with Drupal, announced today that the company has been selected to join the Microsoft BizSpark One program. The program's high-potential startups are selected from a pool of more than 45,000 companies from over 100 countries around the world. Companies in the BizSpark One program demonstrate a strong potential to succeed, shape the industry's future and enhance the overall value of Microsoft products and services for end users.
"We are excited to be a part of Microsoft BizSpark One and to be recognized as an innovative technology company," said Frédéric Plais, CEO, Commerce Guys. "Commerce Guys is dedicated to evolving commerce and bringing the best eCommerce solutions to every genre of e-retailing. It's important for our technology to align with Microsoft's in order to best serve our global customers with robust solutions."  
Microsoft works closely through a one-on-one relationship with high-potential startups in the BizSpark One program to provide customized engagement plans to accelerate their growth, including access to technical, marketing and business development resources.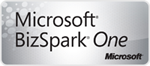 "The BizSpark One program is focused on identifying strong emerging companies with a high potential for continued success," said Mark Relph, senior director of the Emerging Business Team at Microsoft. "Commerce Guys' multifaceted technology and solutions position the company to excel in e-commerce. We look forward to our ongoing collaboration."
Recognized in the Cool Vendors in E-Commerce 2012 report by Gartner Inc., Commerce Guys created Drupal Commerce, an open-source framework now in use in over 13,000 websites worldwide. Known for its unprecedented flexibility, scalability and security for conducting modern e-commerce, Drupal Commerce offers a range of capabilities, including the ability to upload catalogs of merchandise, accept payments online, integrate with shipping services and interact with customers. Commerce Guys provides online retailers with leading-edge solutions for complex product, content, community and context management.
About Commerce Guys
Commerce Guys, creators of Drupal Commerce, is the leading e-commerce company working with Drupal, a powerful open-source web infrastructure and social publishing platform. The mission at Commerce Guys is to serve Internet merchants by helping them leverage the power of Drupal for their online stores with cutting-edge technology, expertise and open-source collaboration.  For more information, visit us at www.CommerceGuys.com
All product and company names herein may be trademarks of their registered owners.
For more information, press only: Mark Wheeler, anthonyBarnum Public Relations, [email protected], 512-329-2755