Thousands of merchants expected to join the more than 135,000 currently using Skrill in order to quickly accept secure card payments
Skrill, one of the biggest online payment systems in Europe today announces a partnership enabling Drupal merchants to accept payments across Europe and beyond with Drupal Commerce, the flexible open-source eCommerce solution. Skrill's worldwide payment network covers 200 countries and territories and offers access to 100 payment options, including credit card, debit card and bank transfer, along with risk management and optional chargeback protection for merchants through just one interface. Frederic Plais, CEO Of Commerce Guys said: "The partnership with Skrill delivers a fantastic payments solution with easy integration and all the payments options you could need. This removes all the usual barriers and allows all Drupal Commerce merchants to increase their reach and unleash their full selling potential with Skrill."
Drupal Commerce merchants who choose Skrill will benefit from: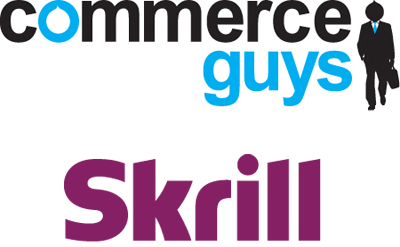 An International payments network.
One interface providing access to 100 payment options in 200 countries and territories.
Access to 30 million Skrill customers.
Significantly increased customer conversion through local payment options.
Free risk assessment and optional chargeback protection.
"We are very pleased to join Commerce Guys in their efforts to bring the best options to e-retailers working with Drupal." said Michael Lane, Vice President of eCommerce for Skrill. "They offer a compelling mixture of flexibility, scalability, value, and compelling user experience that is not available elsewhere." Skrill's payment solution is built into
Commerce Kickstart
, software built by Commerce Guys that provides all the advantages of Drupal Commerce, with features that make it more complete, faster to launch, and easier to administer. The free integration software is available through
Marketplace.CommerceGuys.com
.
About Skrill
Skrill
is one of Europe's largest online payments systems and among the world's largest independent digital wallet providers with 30 million account holders. The Skrill Digital Wallet enables any customer to make online payments conveniently and securely without revealing personal financial data, as well as send and receive money online cost-effectively. Skrill's worldwide payment network offers businesses access to direct payment processing via 100 payment options in 200 countries and territories and 40 currencies through just one integration. Founded in 2001, Moneybookers Limited, now trading as "Skrill", was the first e-money issuer to be authorised and regulated by the FSA. In 2007, Investcorp Technology Partners undertook the buyout of the company from its founders.
About Commerce Guys
Commerce Guys is an innovative eCommerce software company delivering products, solutions and services in Drupal, an open-source Web infrastructure that drives powerful brand and customer experiences. Featured in Gartner Inc.'s Cool Vendors in E-Commerce 2012 report, Commerce Guys' mission is to serve Internet merchants by helping them leverage the power of Drupal for their online stores with cutting-edge technology, expertise and open-source collaboration.