New module available in Commerce Marketplace offers security against lost card data and more
Ann Arbor, Michigan, February 5, 2013-- Commerce Guys, an innovative eCommerce company delivering products, solutions and services for Drupal, has partnered with HostedPCI to provide a seamless, risk-free credit card processing solution for Drupal Commerce. The new Drupal Commerce module, developed jointly between Commerce Guys and HostedPCI, allows merchants to connect their Drupal Commerce instance to many of the leading payment gateway solutions including Authorize.Net, Chase Paymentech, PayPal, Moneris, WorldPay and many others. The new Drupal Commerce module also allows for industry leading payment features such as card-on-file access for consumers. Leveraging a unique, cloud-based Level 1 Payment Card Industry Compliance service, HostedPCI enables merchants of any size to conform to the Payment Card Industry Data Security Standard (PCI DSS).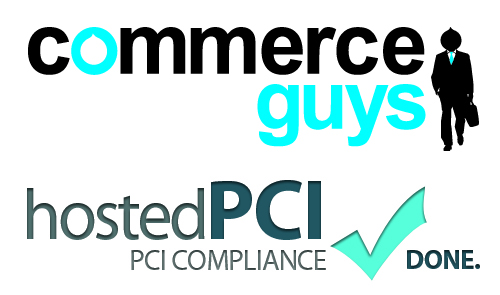 "Commerce Guys is glad to announce our new partnership with HostedPCI," said Fredreric Plais, CEO of Commerce Guys. "Our small- and medium-sized business clients now have an effortless, cost-effective option that satisfies the PCI compliance requirement and protects their business from a potential credit card breach."
HostedPCI service delivers state-of-the-art transaction processing technology that allows multi-channel merchants to provide total protection against credit card theft without sacrificing the consumer experience.  The implementation is completely transparent to the customer and they never leave the control of the merchant's checkout or call center process.
The service also provides flexible customization to fit the merchant's business requirements with added features, including support for split, deferred and recurring payments, and 'credit card on file' best practices for repeat customers.
"We worked closely with Commerce Guys to ensure a seamless integration of HostedPCI with Drupal Commerce. Commerce Guys made our powerful PCI compliance service easy to set up and administer for Drupal Commerce users." said Leon Kuperman, Director, HostedPCI.
HostedPCI's integrated Drupal module is available in the Commerce Marketplace.
Commerce Guys provides online merchants with innovative and powerful Drupal-based eCommerce solutions. From solutions for the most high-traffic retail sites to enterprise-class offerings designed for small and mid-size merchants worldwide, Commerce Guys provides industry-leading solutions, customized development, consulting, training and support services.
Featured in Gartner Inc.'s Cool Vendors in E-Commerce 2012 report, Commerce Guys' mission is to serve Internet merchants by helping them leverage the power of Drupal for their online stores with cutting-edge technology, expertise and open-source collaboration.
About HostedPCI
HostedPCI.com is the only PCI compliance service available that offers merchants indemnification from risk of loss of credit card data.  Because this critical data is never exposed to the merchant's environment, this clever solution totally eliminates the risk of credit card loss.  There are no hardware or software costs, or long-term contract—just a small fee per transaction.  It's fast and easy to implement, and extremely cost-effective compared to traditional methods. HostedPCI allows merchants to connect with many of the leading payment gateways, using a simple yet powerful unified API.