Drupal and Drupal Commerce Experts Unite to Provide Merchants with Flexible eCommerce Solutions 
Ann Arbor, Mich., Oct. 3, 2013 –
Commerce Guys, creators of
Drupal Commerce
and the leading eCommerce company working with Drupal, announces a partnership with New Jersey-based
Blink Reaction
to deliver Drupal and Drupal Commerce to merchants looking to provide a content rich commerce experience to their users. Blink Reaction, part of Commerce Guys' new Delivery Partner program, is an open-source digital consultancy specializing in design, development, enablement and maintenance of enterprise-scale Drupal solutions for some of the largest brands in education, healthcare and media.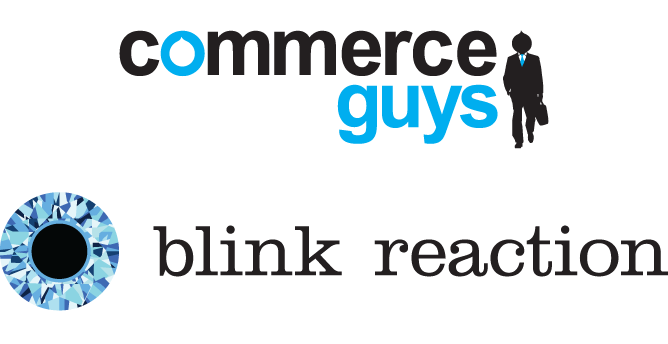 The partnership, which kicks off with a
webinar
and training session in October, utilizes each company's expertise by offering economical solutions for online retailers of all sizes. Commerce Guys and Blink Reaction will show attendees how to add commerce functionality to the many digital retailers who have already invested in Drupal for content delivery. 
"While we have a number of clients in the Fortune 500, we always love going back to our roots and working with new, young companies that want to learn how to leverage the power of Drupal," said Nancy Stango, CEO, Blink Reaction. "We are thrilled to be working with Commerce Guys to offer our combined expertise. This training session is just the first in a series, and we are looking forward to getting attendee feedback as we develop and move forward in our partnership and professional offerings." 
Commerce is more than just financial transactions; it is taking control of how users interact with a site. A great site is optimized so that visitors get a memorable branded experience that strongly influences their decision to buy.  The exchange of ideas is just as important as the exchange of money to a brand, and the uses for the product management and checkout functionality that Drupal Commerce provides meet many needs beyond the typical shopping cart. Longtime Drupal users in government, education and more are adding commerce to their sites in increasing numbers, and this new partnership will help online retailers maximize their value and get the most out of their Drupal investment.  
"Blink is a well-respected Drupal integrator that sees the opportunity in commerce and is committed to expanding their business through it," said Scott Dahlgren, managing director of Commerce Guys, North America. "Their current Drupal expertise, coupled with Commerce Guys' backing and support, will help the large number of Drupal customers realize the potential in implementing a single, seamless solution capable of supporting rich digital experiences, social connections and transactions."
Commerce Guys and Blink Reaction are hosting a webinar on Oct. 10, and a joint training session focused on introducing Drupal Commerce and its ecosystem in New York City on Oct. 16. The first in a series of planned training sessions will be hosted by Blink Reaction and led by Ryan Szrama, the lead creator of Drupal Commerce. Interested attendees can
learn more by clicking here.
About Commerce Guys
Featured in Gartner Inc.'s Cool Vendors in E-Commerce 2012 and 2013 reports, Commerce Guys is the creator of Drupal Commerce, one of the fastest growing eCommerce solutions with over 30,000 active sites worldwide. Drupal Commerce is a revolutionary software integrating commerce, content and community to create engaging Web experiences that bring e-retailers more traffic to drive more commerce. 
About Blink Reaction
Blink Reaction is a premiere provider of enterprise Drupal services to Fortune 500 companies throughout the United States. Blink earned its position as a leader in Enterprise Drupal Development by delivering robust, high-performance websites for dynamic companies.  We create scalable and flexible web solutions that provide the best in customer experience and meet brand, marketing, and business goals.
Adding Blink to your team adds a blend of digital strategy, interactive marketing, and brand platform delivery expertise at the highest levels of the Drupal community. Blink Reaction demonstrates the programming skills, development resources, project management, and interpersonal chemistry to deliver your project successfully and on time. Bring us your toughest web challenge and we'll deliver innovative functionality that raises the bar on your competition.